In the spring of 2022, Skyinnov launched a new drone-based trichogramma bead application system on the market. The T-drop spreader is the result of several months of research, prototyping, testing and collaboration between technical teams, remote pilots and agricultural professionals. The 2022 corn borer control season was an opportunity to test the new T-drop spreader, under intensive conditions of trichogramma bead dropping by drone, throughout France but also in 5 other countries. The T-drop spreader developed by Skyinnov teams confirms the excellent performance and reliability observed during our tests. Summary.
First results after 1 season of using the T-drop
Aerial spraying
of trichogrammes by drone
In a recent article, we presented the recent article the issues related to the natural protection of corn crops against the European corn borer, a small caterpillar that causes havoc. For several years, research has identified a natural predator of the moth: the Trichogramma. It is a small wasp that comes to lay eggs in the larvae of the caterpillar and thus destroy the moth to feed and develop.
After several years of testing, a protocol was put in place to protect corn crops. First by manual application of Trichogramma in the fields and now by aerial treatment. This consists in the dropping of trichogramma beads via a drone specifically adapted to this task. Skyinnov, specialized in the development of professional drone equipment, has designed a complete release system consisting of a tank (5 or 8 liters), a motorization and an electronic box to pilot and control the motor.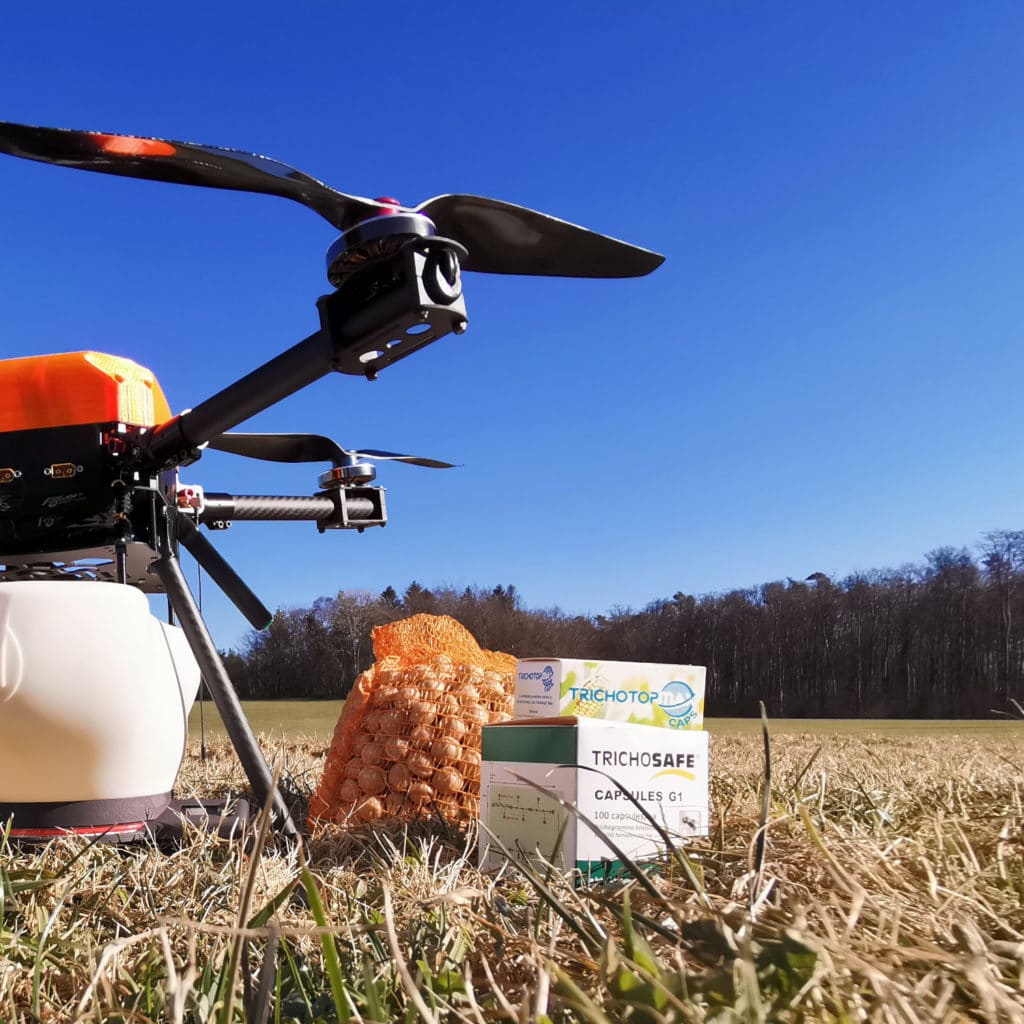 The T-drop in action
above the corn plots
Aerial spraying by drone brings considerable advantages to agricultural professionals. It is non-intrusive to crops, 5 times faster than manual treatment of plots and requires little logistical resources to deploy. The drone is the best way to date to treat corn plots against the borer, by dropping trichogramma.
The performance of our t-drop spreader allow to guarantee high yields. On average, the dropping of trichogrammes by drone allows a treatment of about 100 hectares per day, at a rate of 100 balls per hectare, thanks to a flight speed of about 40 km/h.
A look back at the first season of the T-drop